It may not look too different from the plethoras of fancy cars flooding our roads these days — but in reality, its something so far from your average automobile. I could hop in and cruise my ' Strati ' from cape to Cairo or from Los Angeles to New york and no one would really give a shit. Well, i won't blame anybody if the didn't, unless of course I whispered to them that the cool ride was printed out of a frigging 3D printer! Ya, a bloody 3D printer is all you need you need to print this awesome car designed by Local Motors and showcased at this year's international manufacturing and technology show.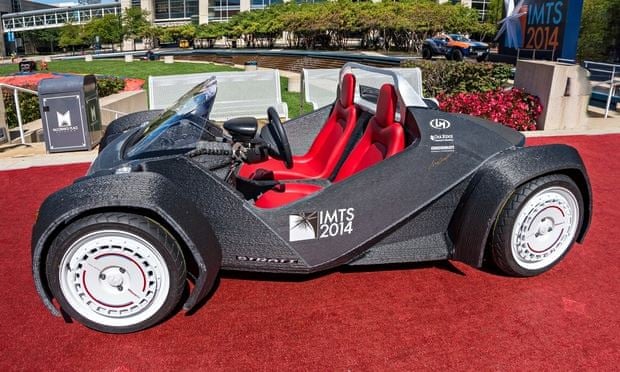 The world's first 3D printed car || image credit : guim.com
While your average cars have an average of 25,000 parts, the strati 3D printed car fairs incredibly lighter with only 49 parts. Considering you would be printing your own automobile from basically one material, 49 parts is definitely a good number to start with. According to Rogers , the CEO of Local Motors, The 3D printed model, called the Strati, is the result of a four-and-a-half month process, from design to finished product. Roger hints that the timescale for future models could be cut to as little as six weeks, and the printing itself to just a single day's work.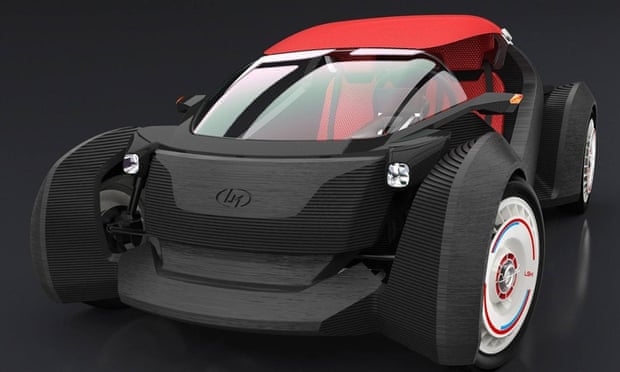 The Strati has a record 49 parts as against an average of 25,000 in normal cars || image credit : Local Motors
For avoidance of doubt or just for the records— currently , Certain components of the car such as the engine, tyres and suspension, cannot be printed. However, the majority of the car, from the chassis to the seats are 3D printed. These parts were printed using a carbon-fibre reinforced thermoplastic, which according to Rogers has the same strength as mid-grade aluminium. The Local Motors design team are currently developing ways to print "different flexibilities, durometers, or compressibility of this material" in different regions of the car. This could for example allow them to make softer plastics for the seats or compression bars that would further enhance the safety of the 3D printed car. Mr. Roger also hinted the car would cost fairly less than his previously estimated price of between $18,000 and $30,000 and that the car would be on the road in the next 12 months. The idea he said is to subsequently develop a technological ecosystem that will breed the
localised production of cars designed with their environment in mind. For example —
"a small factory in Alaska could manufacture Stratis designed specifically for cold weather, while another in Utah could produce cars suited for the desert. Rogers hopes that this principle could be applied to other industries in the US as well, helping to bring manufacturing back from overseas." reports the guardian.com.