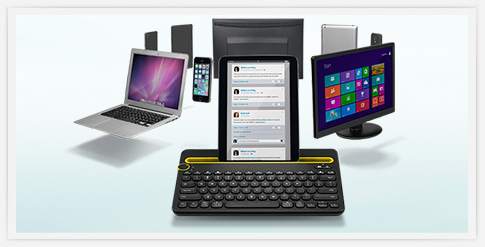 Computers have been around for quite a long time now and so have its input devices like the keyboard. While computers have generally seen tremendous changes in design, appearance and application, sadly the same level of changes haven't been recorded with the keyboard. The invention of the modern computer
keyboard began with the invention of the typewriter. A few key technological developments created the transition of the typewriter into the computer keyboard. Despite the development of alternative input devices, such as the mouse , touchscreen , pen devices , character recognition and voice recognition, the keyboard remains the most commonly used device for direct input of alphanumeric data into computers. However, users of computers (smartphone, tablets, PDA etc) have had to make do with the mediocre keyboards around. But what if the was a very ingeniously designed keyboard for the average computer user?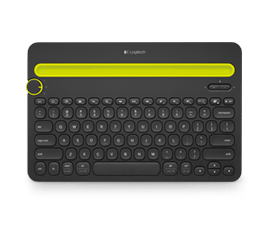 image credit: Logitech
I don't suppose a lot of us have thought of getting a single badass keyboard that can be used with a smartphone, a tablet , and a computer simultaneously!. Well, it doesn't really matter whether you thought of it, Logitech Inc. have obviously done the thinking part and then a little work to unveil its genius keyboard . The Logitech Bluetooth Multi-Device Keyboard K480 can be used with up to three devices, computing platform regardless (Windows or Mac, iOS or Android). Call me a nerd or geek if you want, but there's something about the K480 that makes it the epitome of cool. It features a retrofitted cradle that holds your smartphone or tablet at a convenient angle (right angle) while you type. Everything about the K480 screams "I was made to look so damn cool". Its styling is completely unreserved as a sleek typing machine that's unsuprisingly thin and light.A unique multi-function layout makes Logitech Keyboard K480 compatible with the computer or mobile device you're currently using. Key label colors and split lines identify functions or symbols reserved for different devices and operating systems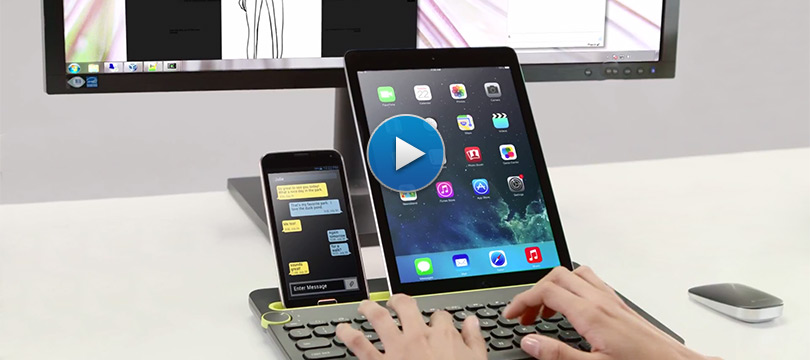 You can use a smartphone, a tablet and most computing platform with the Logitech Bluetooth multi-device keyboard- k480.
Image credit: Logitech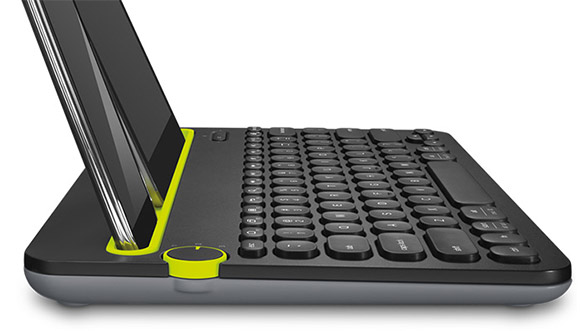 The integrated cradle holds your phone or tablet at just the right angle for you to read while you type.
Image credit: Logitech
Its multitasking potential is really interesting and Of course, the real show stealer here is being able to switch typing between three connected Bluetooth devices. All you need to do is turn the "Easy-Switch" dial to switch typing. The Logitech k480 is the perfect budget keyboard in its class, it cost around $40 on Amazon.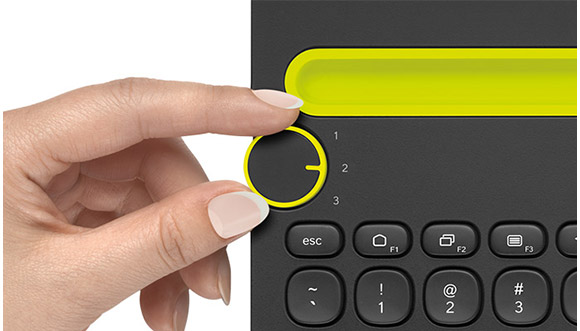 —-Just turn the Easy-Switch dial to switch typing between three connected Bluetooth wireless devices—-
image credit: Logitech
Setting up the keyboard:
The process of setting up the keyboard should be quite hassle free. All you need to do is take out your keyboard from the box and start pairing with your computing gadgets. Pairing a smartphone, tablet and a PC should take 6 minutes at most. ( that is assuming you have any idea about what you doing). Pairing the keyboard requires you to set the dial to one of three available positions, press a corresponding key for device type, and follow normal Bluetooth pairing directions on your device.
Bad sides:
One very obvious setback with the k480 is it click noise. The clikety-click-clack sound can be very annoying, so if you are working in a public space with the k480 you might want to get a crash helmet. You never when the sound might get unberable for others and the decide to use it on your head . Another issue is Logitech's choice using AAA battery instead of rechargeable ones like in it similar keyboard models.
Full Specifications:
Dimensions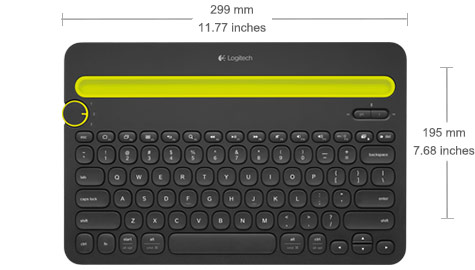 Height: 7.68 in (195 mm)
Width: 11.77 in (299 mm)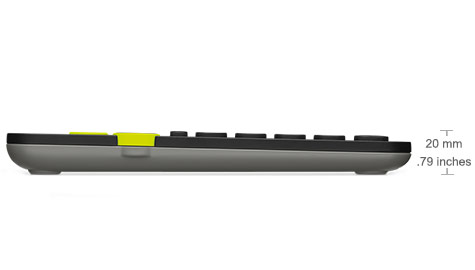 Depth: 0.79 in (20 mm)
Weight: 820 g (1.81 pounds)
Available in white and black.
Bluetooth range: up to 30 feet
Battery life: 2 years
On/Off power switch
Battery life indicator light
System requirements
PC: Windows® 7, Windows 8, Windows 10
Mac: Mac OS X® or later
Chrome OS™
iPad® or iPhone®: iOS 5 or later
Android™ tablet or smartphone: Android 3.2 or later.
Do you like the k480 and would love to get it for your smartphone, tablet or laptop? Don't have these but would love to? Let's guide you through:
Getting a new laptop for gamers
Getting a new laptop for programmers
Getting a new laptop for graphic designers
Getting a new smartphone