Ok… Science quiz for the million dollar price is ? What's the smallest timeframe to charge a battery for it to last for a minimum of 10 hours of talktime? Don't know right? Well, Chinese smartphone maker — Huawei, has a got a rather weird answer – it's 5 minutes.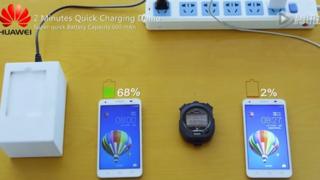 Chinese tech giant Huawei has unveiled a lithium ion high capacity battery that can be charged by 48% in five minutes and could provide up to 10 hours of talk time. | | Image credit: Huawei
Currently, the battery life of smartphones and other portable tech gadgets is a significant limiting factor in the general performance of such portable devices. Luckily for everyone, Many technology firms, scientists and entrepreneurs are researching the design of battery with a more 'attractable' capacity. Notably among them is Huawei, the chinese tech giant has unveiled two prototype removable lithium-ion batteries that can recharge in minutes, using a bespoke charger. The first prototype developed , can charge to nearly 70% in two minutes , but it is not big enough to power a smartphone for an extended period of time. The second can however boost an almost 50% charge in 5 minutes.
How stuff works
On a normal setting, batteries are charged by the current delivered to them via available power sources. Applying additional current at a set battery voltage results in more power, which can result in faster charging but also requires sturdier charging components that can withstand high power levels. It then comes down to the Different amp specifications on different charging adapters to 'influence' the time it takes to charge your phone, but there's a maximum limit to how much current can be pushed through. To prevent potential device damage due to too much power dissipation, smartphones and other portable electronic devices are fitted with regulator circuits that will limit the charging current. Standard device chargers take mains power and convert it into a form that usually doesn't exceed the maximum specifications of the device being charged. Quick charging is achieved by allowing devices being charged to draw more current (which it normally wouldn't) from a traditional power supply, thereby speeding up the charging time. So basically, the type of charger or power supply would inevitably affect the overall charging speed of the battey.
Huawei claims it used heteroatoms (- atoms which are not carbon or hydrogen – ) in the battery design to increase charging speeds without affecting the battery's overall lifespan.


Image credit: businessinsider.com
Not entirely New
Huawei's rapid charged batteries is not entirely new technology, lots of other tech firms have either used it in their devices or have considered the prospect — or just played around with it. In the first quarter of 2015, Samsung announced that the batteries in its new Galaxy S6 handsets could power up to four hours of usage after a 10-minute charge. Similarly , Israeli start-up Storedot revealed an $18 million funded fast-charging device at the beginning of the year which it hopes will eventually be able to charge any smartphone battery in under one minute. Qualcomm has also been experimenting with fast charging, offering an almost 60% charge in five minutes.
Speaking to the BBC, President of tech giant — Motorola, said "Everyone in the world – consumers and all the manufacturers – would benefit from some unforeseen breakthrough in battery chemistry technology,"