Apple's legal battle with Samsung has dragged on for quite a long time. In 2011 (spring of 2011) Apple sued rivals Samsung for 'allegedly infringing ' the company's patents for features such as tap-to-zoom and multitouch gestures. This led to a long drawn Apple Vs Samsung intellectual property Battle. Apple initially asked for $2.5 billion in damages, an amount Samsung knew it wouldn't let go anytime soon, but nonetheless left it panting for breathe. Years later, after series of seemingly endless in-Court tussles, Samsung agried to pay about $548 million a far cry from Apple's initial $2.5 billion damage claims. Now just when Apple is "cashing in", Samsung is back to court — this time — the US supreme court to challenge the previous court's decision. However, Apple inc. is not impressed — Cupertino on Thursday filed its own argument telling the nation's highest court that there is no reason for it to take up Samsung's appeal in the long- running patent dispute.

In a revealed December 2015 filing, Samsung that the Supreme court could help settle a range of issues around design patents — more specifically how damages are calculated. Internet search giant — Google and social network — Facebook have both also also filed arguments encouraging the court to hear Samsung's appeal. The both argue that the way damages are rewarded is apparently inconsistent and systematically flawed. Particularly in the Apple Vs Samsung patent litigation, Samsung was made to release every dime of profits it made from the commercialization of all its devices that "allegedly infringed" on Apple's patent. Other companies supporting the argument who also filed for similar actions include Dell, eBay, Facebook, Google, Hewlett-Packard Enterprise and Vizio among others. Samsung electronics forfeited every cent of profit from phones that infringed on Apple's design patents — "even though the smartphone's patented rectangular shape and rounded corners were only a facet of its appeal, Samsung and others argue" .
"It is barely possible to argue with a straight face that it is the shape and overall ornamental design of the iPhone, rather than its functionality, that motivates consumers to buy it," Stanford Law School Professor Mark Lemley wrote. "It is not even remotely plausible that the shape of the Apple iTunes icon is what motivates people to buy the whole iPhone." Lemley noted. Design patents, which cover how a product looks, are rooted in a archaic 19th century law that were intended to protect the designs of carpets, wallpaper, fireplace grates and ornamental spoons, Samsung further argued. For those products, design was everything — so it made sense to order imitators to surrender all their profits however such standards are grossly inappropriate and an overkill when considering the dynamics of putting together complex technolgical products today. Such a standard is totally flawed and out of step with modern products.
Brief Timeline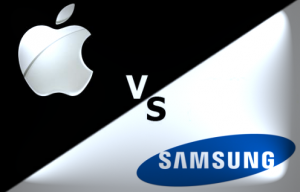 Image credit: Pcworld.com
— Apple sued Samsung for patent infringement in the spring of 2011 starting what would later become a long drawn legal battle.
— In an August 24, 2012 verdict, the nine jurors
in the case decided unanimously that Samsung had infringed on Apple's intellectual property, but however decided that Apple won't be getting the more than $2.5 billion but $1,049,343,540.
— On September 20th , 2012 another hearing about possible injunctions against
Samsung products that infringed on Apple's patent.
— Apple tried to get a sales ban on Samsung's infringing phones and tablets without success. It then subsequently requested an additional $707 million from
Samsung but was unsuccessful.
— Months later, Samsung was able to use legal means to whittle down the $1,049,343,540 amount to about $930 million.
— In May 18th 2015, the US Court of Appeals for the Federal Circuit reaffirmed that Samsung had copied specific design patents in Apple's iPhone, however Samsung scored another victory by whittling down the amount further to $548 million which it reluctantly agreed to pay.